About The Venue Group
The Venue Group is a Wedding Venue Operations Company who have a wealth of experience nurturing, growing, and running venues to achieve their optimal capacity.
We've each spent over 20 years working and growing our business from the ground up, getting to know every role and the best way to do things, and how to knit these roles together to  provide a streamlined team with operational efficiency and service excellence.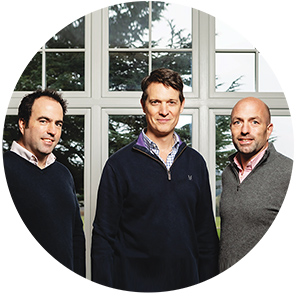 From the start, we always stuck to the principle of keeping it simple, generous, and good quality. It's as true today as it was then, and in an industry that is based on 'word of mouth', we have never looked back.
Over the years we have built up from in-house caterers at wedding venues, preferred suppliers to great Estates and large corporate brands, and then in 2013 took on our first wedding venue. Now, The Venue Group is a leader in the field, and the only fully vertically integrated solutions Company in the wedding venue sector.
We're an ambitious and proactive Company with a keen sense of honesty and fair play. Be it a well-oiled machine, a start-up, or a turnaround venue opportunity, The Venue Group look to add value and growth, building a brand image of an aspirational, desirable venue within a relaxed, friendly, and professional atmosphere.
Ben, Richard & Gwil